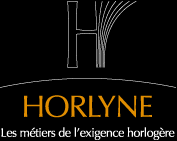 Horlyne has developed in La Chaux-de-Fonds in close association with top-of-the-range watchmaking, living up to the industry's requirements in terms of quality and creativity.
Over the years, the company has become a leader in the manufacture of top-of-the-range oscillating weights, with comprehensive control of the manufacturing process, thanks among other things to the integration of three specialisations which provide precious refinement, aesthetics conveying centuries' worth of know-how and innovative ideas: guilloche working, stone-setting and engraving.
Horlyne combines quality of craftsmanship and large-scale production capacities, with all the flexibility provided by cutting-edge technologies. The processes and conditions governing its work are defined in consultation with every customer, ahead of each undertaking. At Horlyne you will find reliable contacts, a flair for innovation and multiple talents all working to the same end: adding value to your product, its appeal and competitiveness on the most demanding markets.