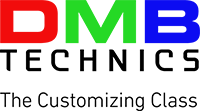 It was back in 2005 when two engineers and an accountant came together. While the first two had unique expertise in the field of displays, the third had an excellent head for figures. An ideal combination that the three were determined to put to good use. And so they founded DMB Technics AG.
Having started with two technical specialists and an aficionado for numbers, it is now an SME with around 27 employees. One of these technical specialists still works in the company to this day: our CEO, Dieter Heimgartner. He originally helped develop the STN technology and is co-owner of the globally important STN patent.
In all these years, we have created a wide range of displays and display systems. Our product portfolio stretches from passive LCD displays to high-resolution industry TFTs with touch panels and various components. Our focus lies on long-term projects – many of which last five years or longer.
We are proud of the fact that many reputable companies throughout Europe place their trust in our expertise and products. And we love being able to implement innovative ideas and put the wishes of our customers at the centre of our work.
Related articles